When You Engage The Services Of THIS SANTA, You Will Be Helping The USA Reading School Continue To Be Able To Provide Online Lessons For Thousands Of Children And Adult Students Worldwide Free Of All Charges:_50,000 Students Helped In 14 Years!_
---
---
---
WISHING YOU HAPPY HOLIDAYS

ATTENTION: ALL CHRISTMAS PARTY PLANNERS: CALL 254-6092
***THIS IS A HOLIDAY PARTY RED ALERT***: usareadingschool@hotmail.com
NEED A FUN SANTA FOR YOUR HOLIDAY PARTY???
**FOR A PHOTO SHOOT? OR TO EMCEE YOUR BIG HOLIDAY EVENT?
**TO DELIVER A GIFT TO SOMEONE SPECIAL?
**TO ENTERTAIN YOUR GUESTS WITH GUITAR, UKE OR KEYBOARD SINGING HOLIDAY SING-A-LONG SONGS?
**OR TO PERFORM HIS HILARIOUS
"SILLY-SNOCKERED-SANTA" COMEDY-ACT?
Just CALL 254-6092 OR EMAIL SANTA At usareadingschool@hotmail.com
Here Santa Is All Ready For A Big Night Of Fun At The Grand Ballroom Of The Bellagio Hotel
702-254-6092
Read The BIO Of This SANTA, A Guinness Book World Record Breaking Entertainer At http://bio.vegasartist.com
When You Engage The Services Of THIS SANTA, You Will Be Helping The USA Reading School Continue To Be Able To Provide Online Lessons For Thousands Of Children And Adult Students Worldwide Free Of All Charges. The USA Reading School Has Helped Over 50,000 Students Improve Reading Skills In The Last 14 Years. THIS SANTA Is There For Kids All Year Long With The Gift Of Learning How To Read.

http://www.usareadingschool.com
---
---

Here is a special holiday gift for you!
THE VEGAS "HANDWRITING ANALYSIS & FACE READING"
BIOMETRIC PERSONALITY PROFILER
HAS A SPECIAL HOLIDAY GIFT JUST FOR YOU.....Click The Next Link Below
Breaking News!!!
THE VEGAS PROFILER IS A BIG HIT AT HOLIDAY PARTIES & SPECIAL EVENTS AS HE INTERACTS "ONE-TO-ONE" WITH EACH GUEST BY GIVING ENTERTAINING, VERBAL "MINI-PERSONALITY-ANALYSIS-REPORTS" EVALUATING FACIAL FEATURES & HANDWRITING SAMPLES.
Click Here To WIN A FREE HOUR Of Entertainment At Your Christmas Party When You Invite THE VEGAS PROFILER To Your Holiday Event.
Make This Year Extra Special !
BOOK LAS VEGAS'
MOST ENTERTAINING S-A-N-T-A
FOR ALL YOUR HOLIDAY EVENTS !
TO BOOK S-A-N-T-A
CALL 702-254-6092
To Email SANTA:CLICK HERE
INVITE VEGAS' MOST ENTERTAINING SANTA TO:
YOUR HOLIDAY PARTY ,
YOUR SCHOOL AND CHURCH FUNCTIONS
ALL YOUR OFFICE AND FAMILY CELEBRATIONS
BE YOUR CHRISTMAS GREETER AT YOUR BUSINESS
MAKE DELIVERIES OF GIFTS TO EXTRA SPECIAL PEOPLE
Or Wherever You Need A Santa
Available Days And Nights
Book SANTA For One Hour Or For All Day
When you hire this Santa, you are helping the usareadingschool.com to help teach thousands of children and adults worldwide how to learn to read.

HIRE VEGAS' BEST
S - A - N - T - A
Performing as Mr. Claus since 1961
Call 702-254-6092
It's The Jolly Old Man Himself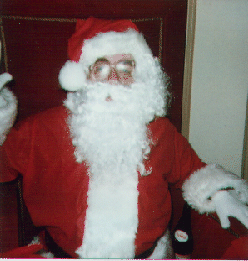 Santa at the Grand Ballroom of the Bellagio Hotel
Las Vegas' most entertaining Santa is ready to put the Merry in your Merry Christmas at every type of event this Holiday Season with:
FOUR SPECIAL SANTA PERFORMANCES
FOR YOU TO CHOOSE FROM !
Select The Best Santa For Your Event!

# 1---Here is the traditional sit-down / picture opt Mr. Claus for kids and the whole family! This is the type Santa that resides in the Malls and Shopping Centers!

# 2---For the office party and grownup get-togethers how about something extra special like The Hilarious Vegas "PSYCHIC SANTA" Act complete with the reading of Elvisss Love Song Cards, Paper Plates, Balloons and a crazy bag of gags and tricks that will keep everyone laughing for days!

# 3---For the office parties, live business promotions or family-style festivities for clubs and organizations The "Seasonal Sing-Along with SANTA" Show complete with vocals, guitar and/or keyboards will create the perfect holiday atmosphere and spirit of the Christmas season!

# 4---Or LET SANTA DELIVER THOSE SPECIAL GIFTS AND GREETINGS FOR YOU THIS YEAR! A Jolly, Enthusiastic SANTA in full costume will deliver a card or present to a home or business To Someone Special in your life ---If you request Santa can just pop in for a quick appearance at an office party, a school classroom celebration or wherever you want that Merry Christmas Cheer spread.......
Just CALL 702-254-6092 ASAP

Wait A Minute!
WHERE IS MRS. CLAUS????
Answer:
Who Do You Think Took Santa's Pictures? Rudolph?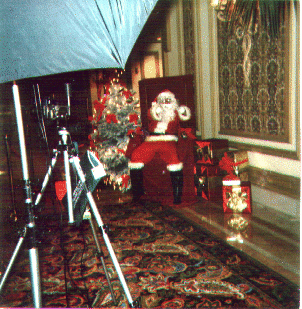 TO BOOK S-A-N-T-A
FOR THIS YEAR'S BIG HOLIDAY EVENT

CALL 702-254-6092
ASAP TO RESERVE THE DATE NOW


20% DISCOUNT ON HOURLY RATE IF FIRST CONTACT IS BY EMAIL:


TO BOOK S-A-N-T-A
CALL 702-254-6092
To Email SANTA:CLICK HERE

CALL SANTA AT: 702-254-6092

This SANTA 2007 PROJECT is a fundraiser to assist usareadingschool.com continue in 2008 to provide the Free Online Phonics Classes established in 1994 that have helped over 50,000 students and supervisors worldwide learn how to master English language reading skills free of charge. Click here to visit the enrollment page with the description of the classes and successful testimonies of past students and supervisors worldwide.

CALL SANTA NOW
702-254-6092

So WHO is this Legendary Las Vegas Guinness Book
World Record Breaking Performer
behind the white beard?
Click Here to find out.
BE SURE AND VISIT SANTA AT www.VegasWatchDog.com , Nevada's Most Entertaining Online News Service.
---
---
---
---
---